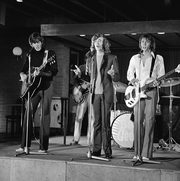 The songwriting partnership of the brothers Barry Gibb, Robin Gibb and Maurice Gibb, known as Barry, Robin & Maurice Gibb (and occasionally B.Gibb/R.Gibb/M.Gibb), is a musical collaboration whose output has produced the majority of the catalogue of the Bee Gees.
Gibb compositions have been the subject of numerous of cover versions. According to radio and television presenter Paul Gambaccini has stated that Barry, Robin and Maurice Gibb were second only to Lennon and McCartney as the most successful songwriting unit in British popular music.
Background
Edit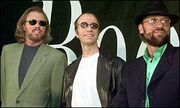 From 1962 to 1965, Barry Gibb was only the songwriter of the band, but in 1966, Robin and Maurice worked together with Barry as a group to create and record their own songs. The first song credited to B.Gibb/R.Gibb/M.Gibb was "The Storm". The first song written by Robin Gibb was "I Don't Know Why I Bother With Myself" (the song was released on the album
Spicks and Specks
)
[1]
The writing credits on their 1967 album
Bee Gees' 1st
put Robin first, as in R. & B. Gibb (Polydor UK) or Robin and Barry Gibb (Atco). The other songs were credited to B.Gibb/R.Gibb/M.Gibb, which include "I Close My Eyes", "Every Christian Lion Hearted Man Will Show You" and "Close Another Door"
[2]
The writing credits on Robin's fifth solo album Walls Have Eyes also put Robin first, as in R, B & M. Gibb, the songs were: "Like a Fool", "Possession", "Someone to Believe In", "These Walls Have Eyes", "Toys", "Do You Love Her?" and "Heartbeat in Exile".
Other credits
Edit
A number of songs written primarily by the trio and recorded by the Bee Gees were credited as follows:
"Songbird" (1975) Barry Gibb–Robin Gibb–Maurice Gibb–Blue Weaver
"(Our Love) Don't Throw it All Away" (1977) Barry Gibb–Blue Weaver
Most of the songs on the Bee Gees' first and second was credited to Barry.
Most of the songs on their first international album Bee Gees' 1st (1967), was credited to Barry and Robin.
Most of the songs on Cucumber Castle (1970) was credited to Barry and Maurice.
Non-Bee Gees songs
Edit
Some Barry, Robin and Maurice Gibb compositions have been released only by artists other than Bee Gees include:
Year
Artist
Song
Peak Chart
Position
Notes
1967
Jon
"Upstairs, Downstairs"
It was recorded in 1966 in Australia with "Town of Tuxley Toymaker, Part 1".
1967
Billy J. Kramer and the Dakotas
"Town of Tuxley Toymaker, Part 1"
The song was first recorded by singer Jon in Australia.
1968
The Marbles
"Only One Woman"
UK #5
The song's B-side was "By the Light of the Burning Candle", was also credited to the moniker, Barry, Robin and Maurice Gibb.
1968
Lori Balmer
"Treacle Brown"
It was released as a single in November 1968, its B-side "Four Faces West" was also written by Barry, Robin and Maurice Gibb.
1969
The Marbles
"The Walls Fell Down"
UK #28
The song's B-side was "Love You", another Barry, Robin and Maurice Gibb composition.
1978
Rare Earth
"Warm Ride"
US #39
Rare Earth were a Detroit-based white rock band signed to Motown, They performed "Warm Ride" on American Bandstand in June that year.
1978
Graham Bonnet
"Warm Ride"
AUS #1
Bonnet was also a previous member of the British rock duo The Marbles. The British release of this song was one of the last Ringo Starr's label Ring O' Records.
1979
Andy Gibb
"Desire"
US #4
Gibb's version was released on his third and final studio album After Dark, the Bee Gees version was originally intended for their Spirits Having Flown album, but it was rejected.
1980
Barbra Streisand and Barry Gibb
"Guilty"
US #3
Released on Streisand's album Guilty.
1981
Leo Sayer
"Heart (Stop Beating in Time)"
UK #22
Sayer's version was released on World Radio. Bee Gees' version of the song was originally intended for Living Eyes, but it was not included.
1982
Dionne Warwick
"Heartbreaker"
US #10
1982
Dionne Warwick
"All the Love in the World"
UK #10
1983
Kenny Rogers and Dolly Parton
"Islands in the Stream"
US #1
1983
Kenny Rogers
"Buried Treasure"
US Country #3
1985
Diana Ross
"Eaten Alive"
US #77
1985
Diana Ross
"Chain Reaction"
US #66
References
Edit
Ad blocker interference detected!
Wikia is a free-to-use site that makes money from advertising. We have a modified experience for viewers using ad blockers

Wikia is not accessible if you've made further modifications. Remove the custom ad blocker rule(s) and the page will load as expected.