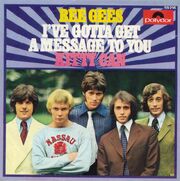 "I've Gotta Get a Message to You" is a song recorded by the Bee Gees in 1968, which became their second #1 single on the UK Singles Chart.
The song's subject matter was quite disturbing: a man condemned to die in the electric chair, begs the prison chaplain to pass a final message on to his wife. Robin Gibb who wrote the lyric said that the man's crime was the murder of his wife's lover. He came up with the idea following a row with his wife and originally conceived the song with Percy Sledge in mind.
The song appeared on the US edition of the Bee Gees' third album Idea. The Vince Melouney track "Such A Shame" appeared instead in the UK but both songs feature on the CD edition released circa 1991.
It was only #1 for a week, being replaced by The Beatles' single of "Hey Jude."
Personnel
Edit
Ad blocker interference detected!
Wikia is a free-to-use site that makes money from advertising. We have a modified experience for viewers using ad blockers

Wikia is not accessible if you've made further modifications. Remove the custom ad blocker rule(s) and the page will load as expected.