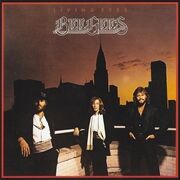 Living Eyes
is the
Bee Gees
' fourteenth original album, released in 1981. The Bee Gees completely broke away from
disco
with the release of this album. In spite of this, the album was virtually ignored in the United States because of the anti-disco backlash. The album sold 750,000 copies worldwide and while it did not enter the Top 40 in either the U.S. or the UK, it reached #6 in Norway and #4 in Spain.
Living Eyes was chosen to be the first ever album to be manufactured on CD for demonstration purposes, as seen on the BBC TV program Tomorrow's World in 1981, and was featured on the inaugural issue of the Compact Disc trade magazine. It was the first Bee Gees album to be released on CD, in early 1983, when CDs first reached the market, though few were manufactured. After RSO Records was absorbed by Polygram Records, Living Eyes was the only Bee Gees album in their catalog not released on CD in the late 1980s. It became very rare until years later when it became available on CD in Japan.
Track listing
Edit
All songs written by Barry Gibb, Robin Gibb and Maurice Gibb, except as indicated.
"Living Eyes" – 4:20
"He's a Liar" – 4:05
"Paradise" – 4:21
"Don't Fall in Love with Me" – 4:57
"Soldiers" – 4:28
"I Still Love You" – 4:27
"Wildflower" – 4:26
"Nothing Could Be Good" (Albhy Galuten, B. Gibb, R. Gibb, M. Gibb) – 4:13
"Cryin' Everyday" – 4:05
"Be Who You Are" (B. Gibb) – 6:42
"Heart (Stop Beating In Time)" - later recorded by Leo Sayer
"Heat Of The Night"
"Loving You Is Killing Me"
"Hold Her In Your Hand" - later recorded by Maurice Gibb in 1984 for the soundtrack to A Breed Apart
''City of Angels''
''Mind Over Matter''
Personnel
Edit
Ad blocker interference detected!
Wikia is a free-to-use site that makes money from advertising. We have a modified experience for viewers using ad blockers

Wikia is not accessible if you've made further modifications. Remove the custom ad blocker rule(s) and the page will load as expected.