The Ultimate Bee Gees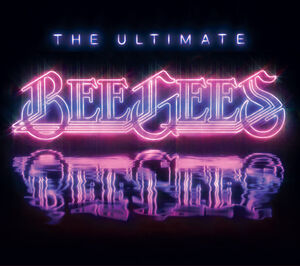 Details

Album Type

Greatest Hits

Released

2009

Recorded

1967-2001

Length

Disc 1: 78:48
Disc 2: 68:02

Label

Reprise

Producer
V

-

E

-

T

-

D
The Ultimate Bee Gees is a compilation album released to coincide with the 50'th anniversary of the Bee Gees. Though the group did not start recording until 1963 on Festival Records in Australia, they began calling themselves the "Bee Gees" in 1959 after several name changes such as "Wee Johnny Hayes and the Bluecats", "The Rattlesnakes" and "BG's". Each disc is themed with the first containing more upbeat songs, called A Night Out, and the second containing slower songs and ballads, called A Night In, though the cover art does not distinguish this theme. Liner notes were written by Sir Tim Rice. This also marks the return of the 70's era logo on an official Bee Gees release, which was last used on the Bee Gees' 1983 single "Someone Belonging to Someone".
Track listing
Edit
Though every song in The Bee Gees catalog since 1967 has been mixed in stereo, a few early tracks are presented here in the mono mixes heard on the original single releases, for the first time on a CD compilation. (The mono mixes were previously released on CD on the 2006 box set Studio Albums 1967-1968.[1])
All songs were written by Barry Gibb, Robin Gibb and Maurice Gibb, except where noted.
DVD bonus disc
Edit
The Ultimate Bee Gees [Deluxe Edition] came with a bonus DVD containing promotional clips and videos. Though the promo clip for Tomorrow, Tomorrow is included on the DVD, the song is not included in the collection. All tracks are original studio recordings unless otherwise noted.
Though there are not any new songs included in this compilation and there has been little promotion for it, the set has charted in the UK at #19 in its first week and in the US at #116 on the Billboard 200 top albums chart.[2]
In May 2012, The Ultimate Bee Gees re-entered the Billboard 200 at #49 due to a huge increase in Bee Gees' album sales following the death of Robin Gibb
References
Edit
Ad blocker interference detected!
Wikia is a free-to-use site that makes money from advertising. We have a modified experience for viewers using ad blockers

Wikia is not accessible if you've made further modifications. Remove the custom ad blocker rule(s) and the page will load as expected.